The Triennial Council is Phi Beta Kappa's legislative body, which convenes every three years to conduct
Society business. Phi Beta Kappa executives, senators, and representatives from the Society's chapters and
associations meet to charter new chapters, elect new leadership for the following triennium, and discuss
policies affecting the Society as a whole.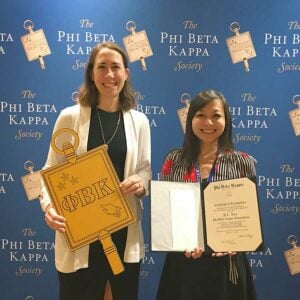 The 46th Triennial Council is taking place virtually from August 3-6, 2021.
The 45th Triennial Council took place in Boston, Massachusetts from August 2-5, 2018. The President, Nina Kuo, and Executive Committee Member, Liz Marshall, attended on behalf of the DC Association. Best practices were exchanged in breakout sessions, and Nina had the chance to speak about the successes of
our mentorship program and Young Professionals network. Delegates also voted to establish chapters at Chapman University, Loyola Marymount University, Mississippi State University, and The University of South Florida.
The DC Area Phi Beta Kappa Association's efforts were also honored with an Outstanding Association Award. Thank you to our past and present volunteers for the tireless and incredible work you have provided the organization – congratulations!