On Thursday, February 28, twenty members of the Book Club met at Nagomi Izakaya to discuss There
There by Tommy Orange. This novel, which speaks to the experience of the urban Native American
community in Oakland, California, appeared on many must-read lists throughout 2018. Most agreed that
Orange tackles too many characters, and too many disparate narratives, which at times clouds the
primary threads and arguments of the book. The novel nonetheless is a stirring, emotional
testament to the past and present life of the Native American population in our country, a complex look
at inter-generational conflict, and a reflection on the right of minority voices to shape their own
narrative, both historical and modern.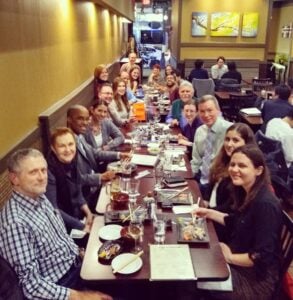 On Saturday, February 23, four members of the Book Club met and toured the historic site of George
Washington's Mount Vernon estate in Alexandria, VA. We visited as a supplement to our reading in
January of Lafayette in the Somewhat United States by Sarah Vowell, in which she spoke about the
sense of security and peace that Washington's estate gave him, and how he kept up with the running of
the household from afar during the Revolutionary War, to glean a sense of order and control amidst the
chaos of battle. We were surprised to see how much of the original structure is original, right down to
the wood frame Washington's father laid down, and learned much about how the recent interior renovations of the first floor reflect the very latest historical research.